Buy Dining Room Carpets in Dubai
Discover the perfect blend of style and functionality with our Dining Room Carpets in Dubai. Step onto a world of comfort and sophistication, setting the stage for unforgettable dining moments.
Enhance your dining space with luxurious, stylish dining room carpets in Dubai. Choose from a variety of designs, colors, and sizes for added comfort and elegance. Transform your dining area into a sophisticated haven with our premium quality carpets.
Dining Room Carpets Dubai; Perfect Addition To Your Mealtimes
Dining room is not just a place for meals; it's a gathering spot where memories are created and cherished. Our exquisite collection of carpets is designed to enhance the ambiance of your dining area, creating an inviting and luxurious atmosphere for you and your loved ones.
Crafted with meticulous attention to detail and using the finest materials, our dining room carpets offer unparalleled beauty, comfort, and durability. Whether you prefer a timeless traditional design or a contemporary statement piece, we have a carpet that will perfectly complement your dining room decor.
High End Construction Of Our Dining Room Carpet Dubai
Our carpets are meticulously crafted using premium materials, combining durability and elegance to create a luxurious addition to your dining space. With a keen focus on modern dining room carpet trends, we offer a wide range of styles and designs, including contemporary, stylish, and elegant options.
Our collection features the finest dining area carpets that not only provide comfort underfoot but also elevate the visual appeal of your dining room. Whether you're searching for affordable dining room carpets or looking for the best-in-class luxury options, we have the perfect solution for you.
Versatile Measurements Of Our Dining Room Carpet Size
At Rugs and Carpets Store, we understand that every dining room is unique, which is why we offer a wide range of carpet sizes to accommodate different dimensions and layouts. Whether you have a cozy nook or a spacious formal dining area, our collection includes carpets in various dimensions to suit your specific needs.
From compact rugs that add a touch of elegance to intimate settings, to large area carpets that beautifully anchor expansive dining rooms, we have the perfect size to enhance your space.
Our versatile measurements ensure that you can find the ideal dining room carpet that seamlessly integrates with your furniture arrangement.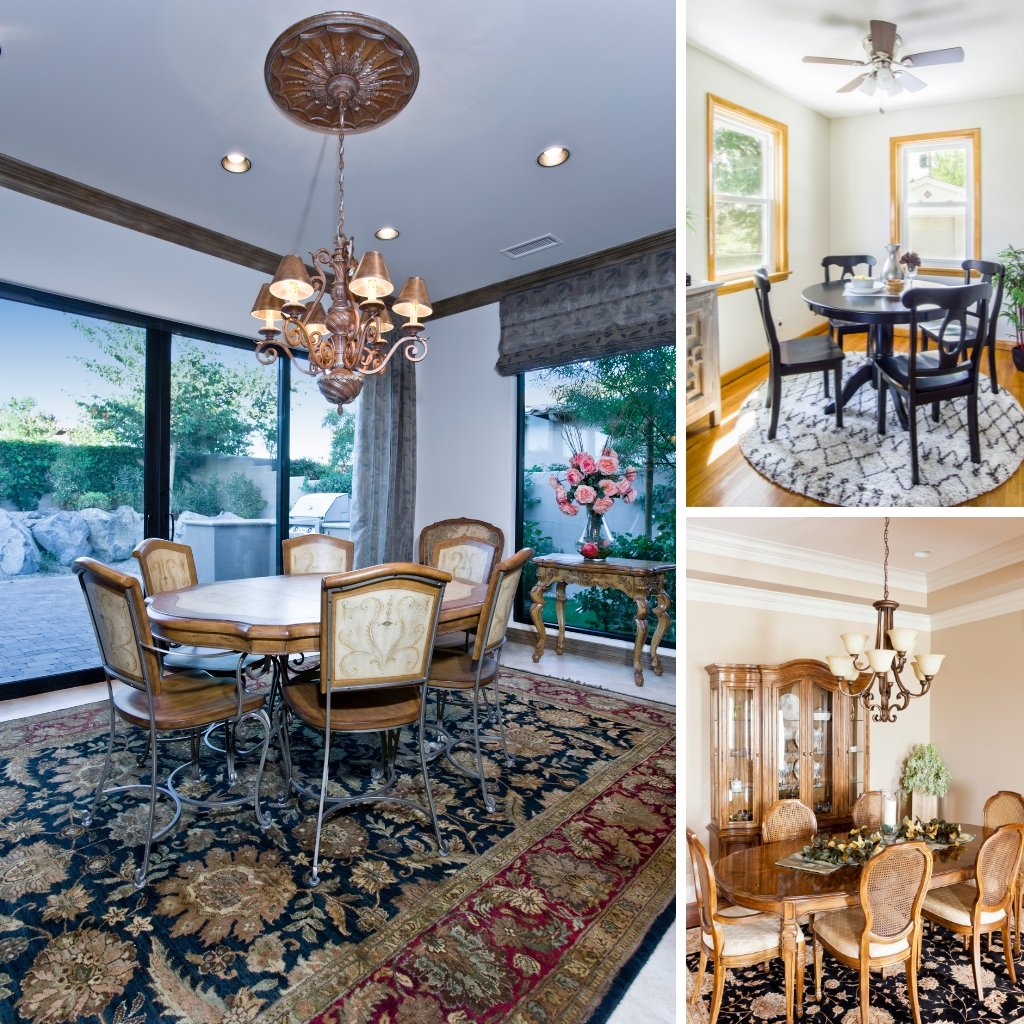 Why Carpet Is A Must To Install Under Dining Table?
Dining Room Carpet Designs 2023
Frequently Asked Questions
Dining room carpets offer several benefits, such as enhancing the visual appeal of the space, providing a comfortable surface for meals, reducing noise levels, and protecting the underlying flooring from scratches and damage.
To select the right size dining room carpet, measure the dimensions of your dining table and chairs, ensuring that all chair legs remain on the carpet even when pulled out. Leave enough space around the table for easy movement. Consider the overall room size and layout for a balanced and proportionate look.
Yes, dining room carpets are designed to be easy to clean. Regular vacuuming helps remove loose dirt and debris. Additionally, many carpets come with stain-resistant treatments, making spills easier to clean. For deeper cleaning, professional carpet cleaning services are recommended.
Yes, we offer customization options for dining room carpets. You can choose from a variety of designs, patterns, colors, and textures to create a personalized carpet that complements your dining room decor.
We Are The Best Dining Room Carpet Supplier in Dubai
As a reputable supplier of dining room carpets in Dubai, Abu Dhabi, Sharjah, Al Ain, Ajman, we are offering high-quality carpets at affordable prices. Our diverse collection boasts a wide range of customized options, ensuring that you find the perfect dining room carpet to suit your unique preferences.
We understand that flooring installations can be complex, which is why we highly recommend seeking the assistance of our professional floor installation team. With their expertise and experience, you can rest assured that your installation will be carried out with precision and efficiency.
To explore our extensive range of dining room carpets, including both natural and synthetic materials, as well as an exquisite selection of handmade options, we invite you to contact us at +971502136026 or via email at info@rugsandcarpets.ae.